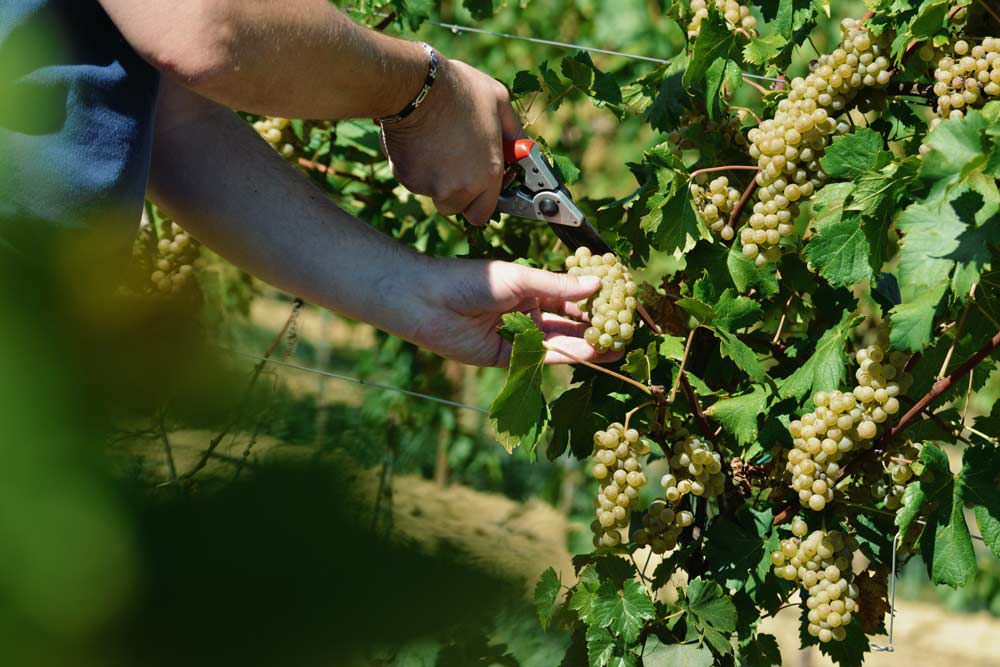 A Bright Harvest – Nicola Biasi
Harvest 2019 at Terre di Ger: our oenologist Nicola Biasi speaks about the ripening of the grapes, first impressions in the cellar and resistant varieties.
Nicola, would you please give us an overview of this year's harvest?
Year 2019 did not start under the best auspices, because of frequent rains in May which for sure didn't help our vines, but luckily the situation has normalized in the latest months. I would define this harvest as a bright harvest, since grapes have ripened more because of sunlight than because of high temperatures. This is a unique condition which has allowed white grapes to reach the best ripening level both in sugar and aroma. The global acidity is there fore quite interesting, high acidity is a condition which has not occured for a long time since the last years have been hot and short. This will give us complex and elegant wines with higher evolution potential than previous vintages.
What characteristics can be noted in these very first musts?
This year's yield is slightly lower than usual, therefore transformation from grapes into must is not so abundant and this means that the skin is thick; therefore we are going to have a great aromatic structure in our wines. Up to now fermentation is proceding smoothly and the first musts that ended the fermentation process a few days ago are showing really interesting organoleptic characteristics.
What about resistant grape varieties?
As we have already said, this season did not start in the best way, due to frequent spring rains and this could have been a problem. In fact, resistant varieties as proved to be very resistant to pests and did not show any sign of disease such as Peronospora which is the most common problem you can meet at the beginning of the season. Resistant varieties are giving us a great advantage as far as echo sustainability is concerned, but not only this. With almost zero phytosanitary treatments we have really low copper levels in the must and so we can carry on much cleaner fermentation, without running the risk of lusing scents and aromas that would be heavily compromised in case of high copper levels.